Aloha!  Join us for Sunday Services at 9:00am and 11:00am.
Announcements/Information…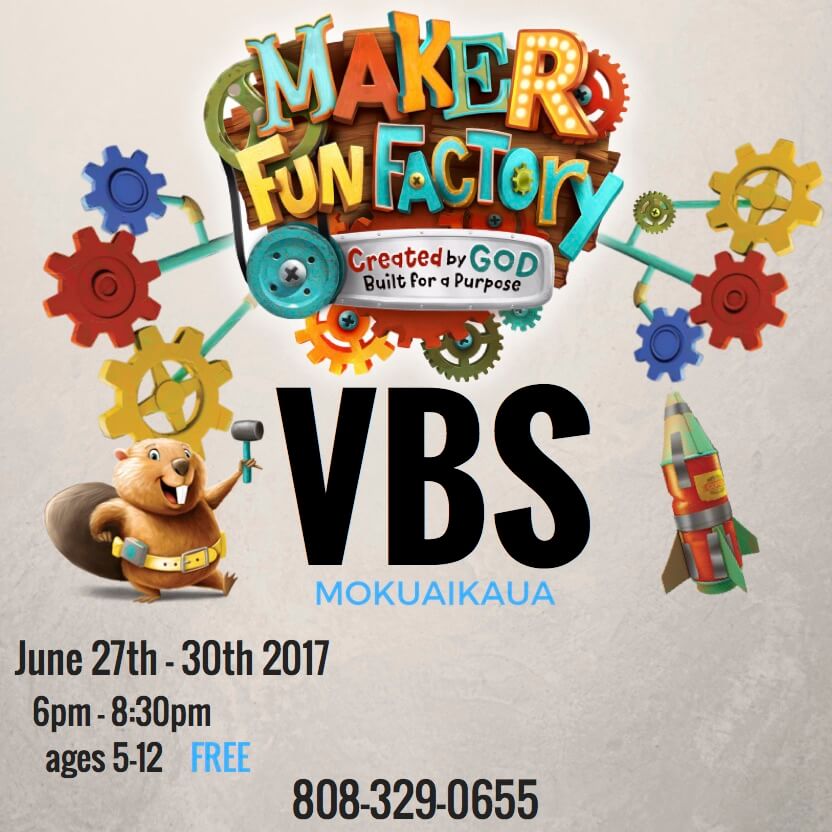 Vacation Bible School Save the date for VBS for June 27th through June 30th. The school will run from 6-8:30pm in the Activity Center for kids ages 5-12. Click HERE to access the form.
Weekly…
Life Care Ministry is

every Sunday from 2:30pm to 3:30pm

at the Life Care Center in Keauhou.  Be a blessing to others!
Worship at Kahalu`u Property  (across Kahalu`u Beach) meets every

Sunday from 5pm – 7pm

.  We worship, pray, fellowship and close with a potluck dinner.
Adult Bible Study: is held weekly at the church in the Thaddeus Room on

Tuesdays from

1:30pm – 2:30pm

.
Youth Ministry: "Break Free" meets at the church on

Tuesdays from 6:00pm – 8:30pm

.
Prayer Groups: 

Wednesday's at 5pm – 6pm

upstairs office lanai and

Friday's at 8:00am – 8:30am

in the church.  All are welcome.
Women's Bible Study:  The Women's Bible Study will be switching to a monthly meeting for the summer. The next meeting will be July 1st at 8am. It will be at Lava Java on Ali'i Drive. For more information, contact the office or Ren Whitcomb.
Monthly…
Men's Fellowship: meets on the

1st Saturday each month from 7a – 9a

for a potluck breakfast (prepare your food ahead of time).  We eat, share and pray.  Location varies…please contact the church office.
Dress A Girl Around the World: meets the

1st Saturday each month from 1p – 4p

at Old Industrial (call the office for more info). Come and help sew clothes for a child and make a difference!
Please contact the office at 808-329-0655 for additional information!  Blessings to you! 
Office Hours: Tuesday – Friday: 9am to 4pm.  Closed on Federal and State holidays.