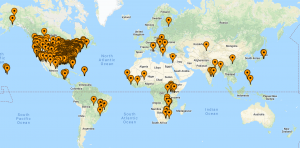 At Orphan Sunday 2018 we'll hear personal stories and watch heart warming videos telling of the local and global movement for adoption and family reunification. Come hear from Lost Kites filmmaker, Jeff Rogers, and see the 2018 Orphan Sunday video his team produced. And see a new video from The Chosen & Dearly Loved Foundation's work in Kenya that's triggering amazing response online.
Orphan Sunday started in a small, hard-pressed church in Zambia. The church members had little. But the pastor believed that all Christians are called to express God's deep love for the fatherless in action. The church responded in astounding ways, some even removing their own shoes for orphans nearby.
Today, this simple, compelling vision echoes around the world. It came not via a huge, well-funded machine, but by faithful volunteers like you offering what you have…just like those Zambian believers on the first Orphan Sunday.